Designed for Midwest Snow loads - Heavier snow designs available.
Carports:
Standard Design
Heavy Duty Design
Our Competition
Frames:
6" hot dipped galvanized
55,000 full hard steel made in the USA.
6" hot dipped galvanized
55,000 full hard steel made in the USA.
2" square or round tubing with a elect-ro galvanized steel made in Mexico sun belt state.
Roofing & Trim
Warranty:
20-year written warranty
45-year written warranty
None, or verbal warranty
Snow Load
Design:
Designed to support
24" of average weight snow.
Designed to support
42" of average weight snow.
Designed for the sun belt states, but sold in the snow belt states.
Wind Design:
"X" bracing included for 100 MPH winds.
"X" bracing included for 100 MPH winds.
No "X" bracing designed for 60 to 70 MPH winds.
Size
11'x20'
17'x20'
17'x26'
23'x26'
-------
Std
Hvy
Std
Hvy
Std
Hvy
Std
Hvy
6'
$2014
$3194
$2764
$4310
$3528
$5358
$4868
$6744
7'
$2076
$3276
$2826
$4390
$3610
$5458
$4948
$6844
8'
$2136
$3356
$2886
$4472
$3690
$5560
$5030
$6946
9'
$2198
$3438
$2948
$4552
$3772
$5662
$5110
$7048
10'
$2258
$3518
$3008
$4634
$3854
$5762
$5192
$7148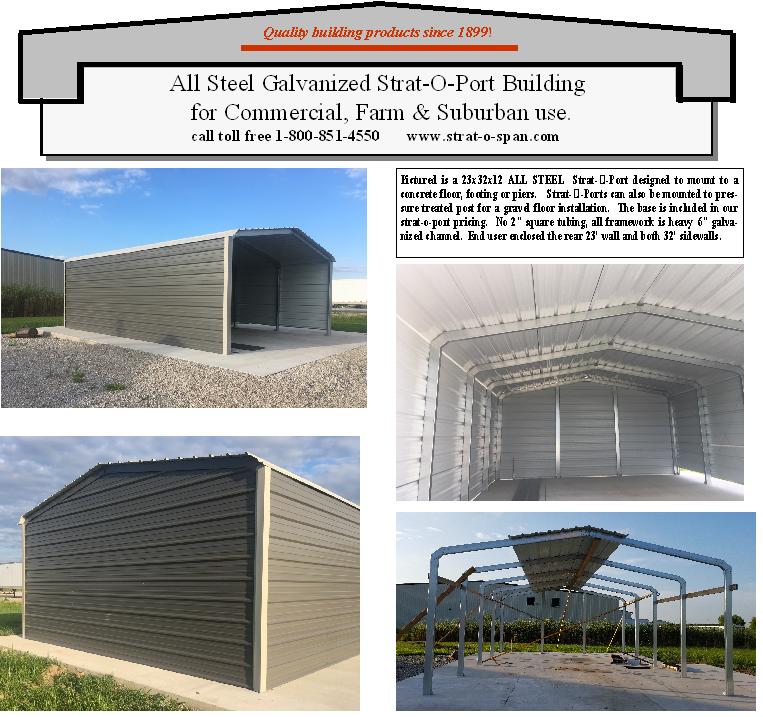 That's a big claim we just made, and it's nothing but the truth. Our Hi-Rib Super Panel is the only panel of its kind today. Hi-Rib Super Panel has a 1 1/4" high rib for super strength and extra loading capabilities and it's manufactured from 29 gauge high tensile strength steel. Panels are 38" wide with 36" wide net coverage.
If you have a long roof run or extra flat roof, our Hi-rib steel is ideal. If you are covering a steel framed building, Strat-O-Span's Hi-rib steel can span roof purlins up to 6' centers! A versatile product, it has been used to cover existing barns to flat roofs on school buildings. Available in galvanized, baked on enamel in a wide variety of colors and galvalume steel with a 20-year warranty, ideal for roofing. We have lengths to 45' or custom cut to the inch.
There is steel and then there is Strat-O-Span's Hi-Rib Super Panel roofing and siding! A difference that makes all the difference--The Strat-O-Span difference!
Can be shipped from these locations nationwide at minimal cost! Spokane, WA; Kent, WA; Atwater, CA, Woodland, CA; Fontana, CA; Phoenix, AZ; Salt Lake City, UT; Temple, TX; Cedar Hill, TX; Lubbock, TX; Houston, TX; Sequin, TX; Longmont, CO; Independence, MO; Rogers, MN; Detroit Lakes, MN; Mt. Phleasant, IA; Breese, IL; Farmer City, IL; Rock Island, IL; Bay City, MI; Lowell, AR; Ft. Smith, AR; Hernando, MS; Sellersburg, IN; Michigan City, IN; Nicholsville, KY; Frankfort, KY, Scottsville, KY; Antioch, TN; Jefferson, OH; Gettysburg, PA; Orwigsburg, PA; Claysburg, PA; Rome, NY; Mocksville, NC; Jasper, AL; Adel, GA; Jacksonville, FL.



AVAILABLE FOR PICK UP OR DELIVERY FROM 34 FACTORY LOCATIONS NATIONWIDE.
All 40 year warranted steel is Energy Star Compliant!
10-year warranty color also available in some locations at $2.61 per lineal foot.
Call toll free 800-851-4550 for West Coast pricing and available colors.
Cost per lineal foot

38" wide, 36"coverage

Galvalume

25-Year

Warranty

Colored Steel 20-Year

Warrantly

Colored Steel

40-year

Warranty

29 gage
$3.80
$4.53
$4.62
26 gage
$4.99
$5.05
$5.65